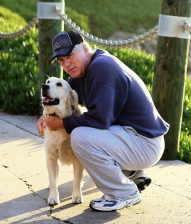 My name is David Morgan. I'm a Christian, loving husband, Dad, sports fan, animal lover, jogger, and someone who believes in you. I've also been a commercial real estate broker, developer, investor and manager for over 40 years.
I started this blog as a place to share my ideas on commercial real estate, life lessons, sports and anything else that comes to mind.
I'm also a free resource for anyone wishing to explore the exciting and lucratively rewarding journey of investing in commercial real estate. I'm happy to answer any questions you have about investing, leasing, or managing commercial real estate.
I enjoy your comments so feel free to comment on any of my blogs, or email me and I'll respond asap.
If you have any questions or if I may be of assistance with your real estate questions, please contact me. My way of giving back is to give away my knowledge. Thanks for visiting my site.